Who We Are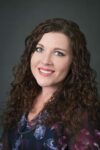 Brielle Khalar
Executive Director
Brielle Khalar is honored to serve the people who live and work at Ecumen Lakeview Commons as the Executive Director. Brielle knew she had found her calling while working as a caregiver in a memory care community during college. After graduating, Brielle worked for several years as a Housing Manager at a small memory care community in Wisconsin and later as a senior living Sales Director in Roseville, MN. She holds a Bachelor's Degree in Political Science and is currently pursuing a Master's in Healthcare Administration.
Brielle lives in the east metro with her husband, their two beautiful daughters, and their overly spoiled labs. Brielle grew up in Russia, speaks Russian fluently, and in her spare time, loves reading new Russian novels and watching documentaries. She is also passionate about learning anything/everything she can about senior care, leadership, and innovation in the industry. She is a huge Minnesota WILD fan and likes spending as much time as possible outdoors.

Anne Stepnick
Clinical Director
Anne has worked for Ecumen for 7+ years, and in senior care for the last 10 years.  Her passion for older adults grew from personal experiences with aging grandparents and being driven to make a difference. What she finds most intriguing is getting to know each individual and discovering the history behind what made them who they are today.
In her spare time, Anne enjoys spending time with family and friends. Being active is important to her – specifically partaking in triathlons and being a part of a triathlon community.